No Promised Land for the New Jersey Nets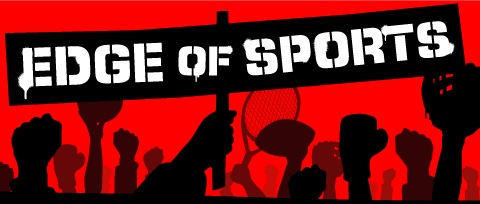 Ugh. In this column two weeks ago I made the case that the New Jersey Nets would win the NBA championship. Now I sit, as many of our readers have e-mailed, with enough egg on my face to serve a Wayans family brunch.

The Nets lost, but they didn't only lose, they were New Jersey vintage toxic waste. I thought the Nets would turn the series into a track meet, running Point Guard and whirling dervish Jason Kidd up and down the court. I thought they would be like Jersey's favorite son Bruce Springsteen, and be "Born to Run". Instead they were more Bon Jovi than Bruce, and they "Gave Ball a Bad Name."

This series was ugly. Aunt Esther Ugly. Joe Piscopo ugly. The Nets were supposed to glide like speed skaters. Instead they played as if Tony Soprano was holding their kids hostage at the Bada Bing. The series went six games, but the San Antonio Spurs could have easily won every contest. The Spurs didn't sweep because for most of the series they were the Nets' partner in idiocy, Abbott to Jersey's Costello. But at the end of the day, the difference was the best player on the court: and he is a Spur named Tim Duncan.

Tim Duncan was the lone person who rose above the fetid swamp that was this series. Duncan is a basketball marvel. His biography would be rejected by Hollywood as overly far-fetched. He was a former swimmer from the island of St. Croix who only picked up a basketball at 16 when a hurricane destroyed St. Croix's only Olympic sized swimming pool. Through a lethal combination of physical gifts and a marathoner's work ethic, he has become a player of unmatched skill. He has the low post moves of Kevin McHale with the size and strength of Robert Parrish. He even was complemented by Shaquille O'Neal who calls him "Big Fundamentals."

Duncan set a finals record by blocking 32 shots in six games. Patrick Ewing blocked 30 shots for New York in 1994 against Houston - and Ewing needed seven games to do it.
In the decisive sixth game Duncan almost accomplished the impossible by achieving what is known as a quadruple double. That's when a player has double figures in four categories. It almost never happens in the NBA and has never come close to occurring in the playoffs.

A quadruple double is more rare than Dick Cheney with a salad, but Duncan, amidst a sewer of unwatchable basketball, almost made this feat of basketball nirvana a reality. In the decisive sixth game he had 21 points, 20 rebounds, 10 assists, and 8 blocked shots. He was that close. Give him his due. He is the best player in the league and is on a level with Magic, Bird, Hakeem, and Kareem; and just one rung below Jordan and Russell among the all time NBA finals greats.

As for my Nets their future is as cloudy as a cataract. Their coach Byron Scott is taking heat for coaching moves in the fourth quarter of the deciding game when the Nets saw a comfortable lead evaporate under the weight of a humiliating 19-0 Spurs run. Scott, who is about as cuddly as a polecat in a phone booth, is bristling at every question. Power Forward Kenyon Martin will have to return from a game six where he went 3-23, throwing up enough bricks to build a mountain-top cabin where he should hide in shame for the next six months.

But the great looming question in Jersey is the question of Jason Kidd. Kidd is a free agent and the team most likely to sign him is in fact The San Antonio Spurs. Until now, the Nets' General Manager Rod Thorn was very confident he would re-sign Kidd.
The Spurs are the only team with the money available to sign the All-World guard. Thorn's logic was that if the Nets won it all, Kidd would return to Jersey to defend the title. If the Spurs won, they wouldn't want Kidd and would choose instead to keep their 21 year old whippett of a Point Guard Tony Parker. But Thorn's worst case scenario occurred with the Spurs winning and Parker getting benched in crunch time for poor play. If Tim Duncan wants a Point Guard old enough to order a beer, Kidd will be tops on his list.
So the Spurs will roll on, Kidd will get rich, and my star-crossed Nets will once again be Dancing in the Dark. Ugh.